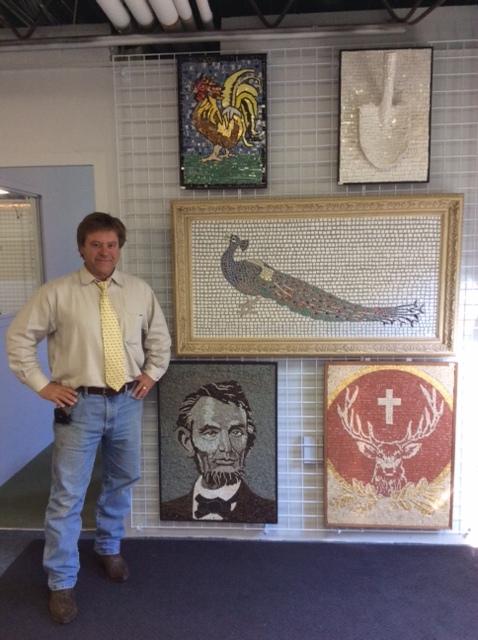 This photo is of
Adam Phillip Begley
at the
INSPIRE GALLERY
Located inside the
Leelanau Studios
on the corner of
Cherry Bend and M-22
and,
Inside the old
Norris Elementary School, just a few miles North West of Traverse City, Michigan.

You can contact Adam by sending him an e-mail at
adampbegleyboy@att.net
or by sending him a message from within this website's
"Say Something" section
or by calling his Studio and Office Phone Number at 231-256-2117
or by calling him on his cell phone when he works at the Leelanau Studios every first Thursday of every month at
231-632-4711NOW SHOWING
Gallery Hours
Spring 2017
10:00 a.m. - 5:00 p.m.
Regular Gallery Hours are Mondays through Saturdays, 10:00 a.m. - 5:30 p.m.
​

First Off, our "Mosaics 101" wORKSHOPS FOR INDIVIDUALS AND GROUPS ARE OPEN FOR Enrollment For the spring SESSIONs (March - June) SO CONTACT US IF YOU WOULD LIKE TO LEARN MOSAICS!
​One Week Sessions $300 per person $ 250 per person in groups 2 or more
(see the workshops section in this website for details ).

My name is Adam phillip Begley, I am a 25 year PROFESSIONAL mosaic tile artist working in the design and installation of CUSTOM, hand-MADE mosaic images in the form of framed and wall hung art, OR Interior Decorating for Interior applications in Cottages and Homes or businesses
with ceramic tile, imported italian glass, marble aND or stone.

This is not a "Hobby" or a "CraFT" IT IS AN AnCIENT ART FORM AND i AM ONE OF THE VERY FEW PEOPLE IN OUR areA WHO STUDIES IT, PRactices it and teaches it just the way I leaRNED TO DO IT AT hope COLLEGE IN HOLLAND MICHIGAN, OUT OF BOOKS AND AT THE RAVENNA SCHOOL OF MOSAIC DESIGN IN ITALY.

tHOUGH mOST OF OUR COMMISSIONED PIECES ARE CREATED ON A STURDY BACKING, SURROUNDED WITH A FRAME AND HUNG ON THE WALL OF CHOICE AT OUR CLIENTS' CHOSEN LOCATION WE ALSO DO APPLICATIONS IN NEW BUILD OR EXISTING HOMES.

Our BATHROOMS, SHOWERS, BACKS PLASHES, FLOORS, FIREPLACES,
and hand made mosaics are popular choices for people wanting something
new or ancient looking in their KITCHENS, Baths, ENTRANCE-WAYS AND MORE.

See the "Grand Central Station" mosaic we installed for a busy kitchen
in the "ARCHITECTURAL SECTION" of THIS WEBSITE FOR photos and more info.

we do commercial work, we offer mosaics classes and we are constantly working on mosaic art for gallery promotion but we do not do art contests, art fairs and or auctions.

please contact us if you feel we can help you with
your particular interest in the topic of Custom made mosaics.

​OUR Commercial PRICING VARIES AS WE TREAT EACH JOB QUOTATION
ACCORDING TO THE ACTUAL REQUIREMENTS OF WHAT IT IS YOU MAY HAVE IN MIND
BUT OUR GENERAL QUOTES WILL ALWAYS BE "PARTS,TIME & LABOR."

If you would like to (A) purchase a custom mosaic, (B) Purchase something still available in the
"MOSAIC ART Gallery" section of our web site, (C) order a "RE-MAKE" of one of the
"previously sold" items (ALSO found in the "MOSAIC GALLERY" SECTION) OR TALK WITH US ABOUT AN IN HOME OR OFFICE DESIGN PLEASE CONTACT US AND let'S TALK.

also:

Ask us about the Week-long "Stay and do Mosaics" workshops.
the studio is located ON THE SAME PROPERTY AS A VERY CLEAN AND WELL MAINTAINED VACATION RENTAL WE OWN CALLED "tHE gOOD hARBOR gUEST hOUSE" AND IT CAN SLEEP (4) PEOPLE VERY COMFORTABLY.
tHE gUEST hOUSE AND sTUDIO ARE LOCATED 35 MINUTES nORTH wEST in the Good Harbor Bay area on the Leelanau Peninsula and it's perfect for Adults, Kids, Families or groups.
see the "Mosaics 101" Page in this website for more on that!


​
thank you for visiting OUR website and feel free to contact us by going to the
section of this website entitled, "SAY SOMETHING."

sincerely,


Adam Phillip Begley
Adam Begley Mosaic Design
955 South Manitou Trail
Good Harbor Bay, Michigan 49653

231-256-2117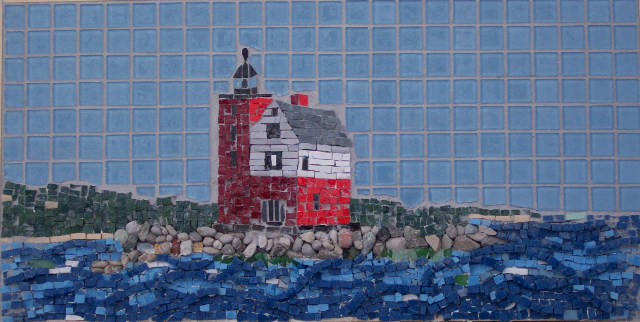 THE ROUND ISLAND LIGHTHOUSE: Located at the entrance to Mackinac Island's Harbor.